T

he Great Wall, wonder of the world.



S

tarting out in the eastern China, from warm and wet banks of Ya Lu river torches west for over 12,000 kilometers to the cold and dry Gobi desert, the Great Wall climbs up and goes down, twists and turns along the ridges of the mountains, it binds the whole northern China, crosses everything in front and never faces back. As the symbol of China's ancient civilization and one of the famous, splendid ancient construction wonders in the world, the Great Wall has been listed as the world culture heritage by the UNESCO in 1987.



W

ent through many centuries, the Great Wall has been served as a military defensive project to keep out the invading troops of the northern nomadic tribes. The construction of the Great Wall first began at the year of 656 B.C. The large-scale constructions of the Wall have been concentrated in three dynasties: Qin, Han, and Ming dynasties. In 221 B.C., when Qin conquered the other states and unified China, Emperor Qinshihuang ordered the connection of these individual walls and further extensions to form the basis of the present great wall. The Qin Great Wall started from Lintao in Gansu province in the west and ended in Liaodong, Liaoning province in the east. It covered a distance of 7000 kilometers, so it was called the "Ten-thousand Li Great Wall". Li is Chinese unit of distance, about 500 meters in one Li.



A

s a matter of fact, a separate outer wall was constructed north of the Yinshan range in the Han Dynasty (206 BC--1644 BC.), which went to ruin through years of neglect. In the many intervening centuries, succeeding dynasties rebuilt parts of the Wall. The Han Great Wall started from Liaodong in the east and ended at the foot of the Tianshan Mountain in Xinjiang, with a total, length of 10,000 kilometers. It was the longest Great Wall in the Chinese history.



T

he most extensive reinforcements and renovations were carried out in the Ming Dynasty (1368--1644) when altogether 18 lengthy stretches were reinforced with bricks and rocks. The whole project took more than 200 years to complete. After that, the total length of the Ming Great Wall was more than 6000 kilometers from Yalu River in the east to Jiayuguan Pass in the west, and it is mostly the Ming Dynasty Wall that visitors see today.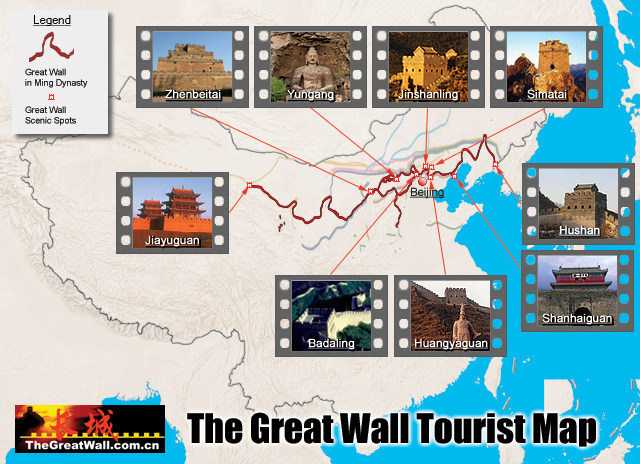 I

t has never ceased to be perfected from its beginning to the end of the roles as a means of defense. Rising and declining along with the long history of China, the Great Wall lost gradually its original function, the erosion of wind and rain with the man-made damage dilapidated the Great Wall. After the foundation of the People's Republic of China, the Great Wall was assigned one of the most important historical sites to be repaired. After restoration of many of its important sections, the Great Wall has resumed its imposing manner, it is now an important tourist attraction for people all over the world. It is the largest of such historical and cultural architecture, and that is why it continues to be so attractive to people all over the world The Great Wall is not only a pried of China, but also a treasure of the world civilization and a link between peoples on this planet!

(Written by Antelope)